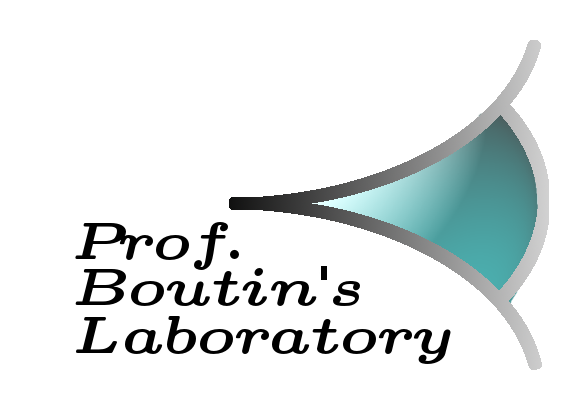 ---
Welcome
Prof. Boutin's research lab is situated in the Material Science and Electrical Engineering (MSEE) building room 393. This is the lab wiki, which is a bit more dynamic than the lab's official webpage.
Looking for funding while you study at Purdue? Please read this before applying for a research position in Prof. Boutin's research lab.
News
We have a new logo! Thank you very much Andrew.
Welcome Christian Tendyck, a visiting student from Germany who is will be working at CIL during the 2011-2012 academic year.
Welcome Jieun Kim, a PhD student from the department of mathematics who just joined the CIL.
Congratulations to Shiv Biddanda who graduated with his masters degree. Shiv is now moving to New York to take on a position at Bloomberg.
Some of you may have noticed the magazines that are laying on the large table in the lab. This are for you to read and enjoy! Feel free to take them home if you want. I want to encourage every student whose native language is not English to read as much as possible. Reading will help you to learn the correct English grammar and build up your vocabulary.
Hector Santos-Villalobos appointed to Oak Ridge National Laboratory (ORNL) Postdoctoral Research Associate Program. ORNL is the Department of Energy's largest multi-program laboratory with more than 4,600 in staff and annually host approximately 3,000 guest researchers. Hector was appointed to a two-year postdoctoral research position for the Image Science and Machine Vision (ISMV) group lead by Dr. Shaun Gleason. The appointment starts on August 2nd, 2010. ISMV is an interdisciplinary research and development group in the Measurement Science and System Engineering Division lead by Dr. Kenneth Tobin Jr. Dr. Philip Bingham will serve as Hector's research mentor. Dr. Bingham received the DOE Office of Science Early Career Award for "Research and Development of Detection Systems for Neutron Imaging," which is funded by the Office of Basic Energy Sciences. For more information on the ISMV team visit http://www.ornl.gov/sci/ees/mssed/ismv. Congrats Hector!
Please welcome Sangchun Han, the newest graduate student to join the CIL team.
Current Members
Director: Prof Mimi Boutin (a.k.a. "pm")
PhD Students:
Master Students
Undergraduate Students
Some Past Members
Postdoctorates
PhD Students

Hector Santos-Villalobos
Ben Brame
Ji (Jeffrey) Zhang

Master Students
Undergraduate Students
Facilities
The Computational Imaging Lab is situated in MSEE393.
Projects
A list of current and prior projects can be found here.
Funding
We are grateful for the following agencies for financially supporting the activities of CIL:
NSF
DARPA
DHS
Next Wave Systems LLC
Intel
The Hewlett-Packard Company
The Motorola Foundation
Department of Homeland Security]]
Relevant Material