Andrew W. Haddad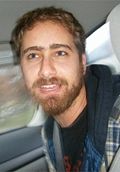 Research Assistant for Professor Mimi Boutin in the Computational Imaging Lab. Graduate Student in Electrical and Computer Engineering. View my Personal Website.
Publications
Paul Gestwicki, Andrew Haddad, Austin Toombs, Fu-Shing Sun, An experience report and analysis of Java technologies in undergraduate game programming courses, Journal of Computing Sciences in Colleges, Volume 25 , Issue 1 (October 2009), p. 102-108.
A. Haddad, M. Boutin, "Rhea: a student-driven tool for enhancing the educational experience", to appear in Journal of Computing Sciences in Colleges (2010). This paper will be presented at the Consortium for Computing Science in Colleges-Midwest Conference, Franklin, Indiana, Sept. 24-25, 2010.